Honored to be among the TOP 5 companies chosen for the Tech 4 Trust acceleration program, we had the privilege of participating in the prestigious Trust Valley Day event in Switzerland. This event marked the program's official launch and brought together leading startups and professionals from the Swiss digital trust and cybersecurity landscape.
Fostering Digital Trust and Cybersecurity with Tech4Trust
The event Trust Valley Day brought together leading experts in the fields of cybersecurity and digital trust, offering a unique platform to explore the latest trends and challenges. The focus was squarely on the transformative power of artificial intelligence in shaping the future of digital trust.
Being part of Tech4Trust Season 5 is a remarkable opportunity for TrueScreen. We eagerly anticipate the chance to collaborate with a league of exceptional professionals in our mission to enhance the digital landscape's safety and reliability through our cutting-edge technology.
What is Tech4Trust?
Tech4Trust is a distinguished Swiss accelerator program by Trust Valley, uniting visionaries, innovators, and state-of-the-art technology to build solutions that bolster trust and security in the digital age. This initiative signifies a pivotal step towards creating a more secure and trusted digital ecosystem.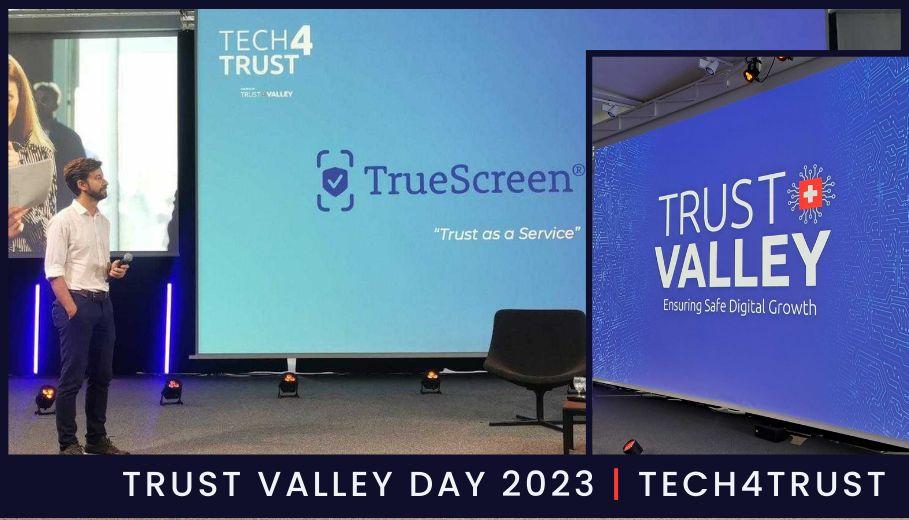 TrueScreen is dedicated to collaborating with industry experts to usher in a new era of digital trust and security. We're proud to embark on this journey alongside exceptional founders and startups in Tech4Trust Season 5, where we anticipate fostering innovation and progress for a future with stronger digital trust.